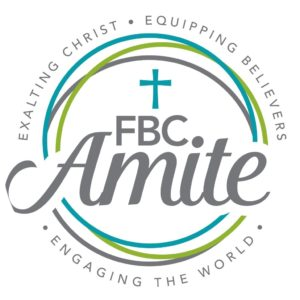 We are believers Crucified with Christ, Compelled to make disciples of Christ, who are daily being Changed for the Glory of God.
First Baptist Church Amite desires to glorify God. We desire to exalt Christ corporately in worship, through small group discipleship, and personally. We simply want God to be lifted up by our lives.
EQUIPPING BELEIVERS
First Baptist Church Amite exist to make disciples who make disciples. Our church provides Biblical instruction, accountability and encouragement so that families and individuals have what they need to make disciples within their homes and neighborhoods.
ENGAGING THE WORLD
First Baptist Church Amite is engaged in the community for the purpose of sharing the Gospel. We refuse to hide away in a "Holy Huddle". We consider it a privilege to share the life changing message of the Gospel.
Three Year
Revitalization
Plan
Exalting Christ with Excellence
In 2017 we will exalt Christ by evaluating our structure, property, and ministries. As we evaluate we will pray together, work together, and change together. We will be updating our facilities, constitution and by laws, and ministry structure.
2018
Equipping Believers Effectively
In 2018 we will continue to exalt Christ with excellence as we evaluate our discipleship and small group process. We will pray together, work together, and change together. We will initiate a process for new believers, start a new members class, and provide ongoing small group leadership training.
Engaging the world Evangelistically
In 2019 we will continue exalting Christ with excellence, equipping believers effectively, and engaging the world evangelistically. In 2017 we began a two year process to contact every household in our city. We divided our city into four quadrants and we reach out to that quadrant twice within a six month period. In 2019, we will pray together, work together, and change together as we continue to engage our community with the Gospel.
We hope this helps communicate who we are and our intentional direction. We provide this information for you so you can get a "snap shot" of who we are and where we are headed. If you have questions, concerns, or would like more information please contact our church office @ (985) 748-7135