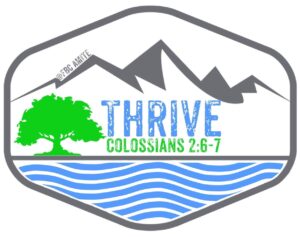 Colossians 2:6-7, "Therefore, as you received Christ Jesus the Lord, so walk in Him, rooted and built up in Him and established in the faith, just as you were taught, abounding in thanksgivng."
What do we teach our students?

Teaching and Training in the Truth of God's Word
Heeding the Leadership of the Holy Spirit

Reaching Outside the W
alls of the Church
Imitating the Compassion, influence, Holiness and humility of Jesus
Vital Reliance Upon Prayer
Equipping the Saints for Evangelism and Discipleship
We are continuing the Gospel Project this year.
Wednesday Night Service: 6:30-7:30 pm
Upcoming Wednesday Night Lessons:
March-April: Parables of Jesus
– We will learn about the parables that Jesus taught and understand them in their original context while knowing how to apply his teachings in our daily lives.
May-June: Grounded Series
– We will walk through a Bible Study authored by Clayton and Sharie King. This Bible study will provide our students with the tools needed to stay grounded in their faith.
July: Demolishing Strongholds
– We will study about strongholds that Satan places in our lives and how we can overcome them. I will be using Johnny Hunt's book, "Demolishing Strongholds" a reference in this study.
March 20: Movie Night at the Church
March 27: Invite Community to Easter Service and lunch after

April 2: Good Friday Crawfish Boil
April 24: Hope Center Work Day
Date: June 21-25

Speakers: Clayton, Shari, and Jacob King

Worship: TBD

Price: $350.00; $175.00 for church members

Price includes camp and hotel cost

Camp Deposit: $50.00 due on February 7

If you help with both fundraisers, you may only have to pay camp deposit.

We will leave on Sunday, June 20 and return on Saturday, June 26.
Youth Minister Name: Austin McDaniel
Cell Phone: (985)-474-5333
Church Office: (985)-748-7135
E-mail: austinmcdaniel123@gmail.com
Please call or text to schedule an appointment.
You can call, text, or email Austin any time Monday-Friday between the hours of 8am-8pm.
Austin, Brittany, and Jameson McDaniel